Vision
Become a globally recognized research and academic institution and thereby contribute to technological and socio-economic development of the nation.
I-center at MITS encourages and supports research activities to achieve the vision of the institute.
Overview
Innovation center focuses on following activities:
Motivating students to come up with novel ideas.
Developing the ideas by taking help from intellectuals.
Activating the innovation with incubation.
Ignition, Innovation and Incubation center
The Innovation and Incubation Center is a common platform where the Students, research scholars, researchers, field experts and industry personals are interacting and working in partnership to instigate breakthroughs: fusing the uncommon, taking risks and thinking big.
Center of Innovation and Incubation
The Center of Innovation and Incubation is a common platform where the Students, research scholars, researchers, field experts and industry personals are interacting and working in partnership to instigate breakthroughs: fusing the uncommon, taking risks and thinking big.
MITS - Innovation Center
Due to a rapid development in science and technology, Management has decided to establish MITS-INNOVATION CENTRE in our college campus. A distinct office for innovation activities has been established in MITS campus on 2nd November-2015. The main objective is for invoking the innovative ideas from teaching and students fraternity and also to increase the job opportunities for young and dynamic students. Students are motivated to actively participate in the management of technology transfer at the MITS campus. Today, our main objective is to increase the effectiveness and utilization of development and research activities in various domains such as social, business, education and so on. Our management is actively assisting in broadening the scope of research activities and utilization of research and intellectual properties. We thereby can increase our efficiency and add value to our MITS's mission.
MITS – Incubation Center
The MITS Incubation Centre has been initiated in the year 2015 and Provides creative atmosphere where new ideas and projects can flourish. Incubation center which will offer a platform for staffs and students for the purpose of business incubation and innovation. Provides spaces for incubation and offers counseling services on business management and technological solutions. Interacting with the industries and other institutes, finding the real world social issues and providing appropriate feasible solutions. Ours is a systematic process designed for innovators to convert their concepts, ideas into product. This entire team is consistently working for the growth of staff and students in MITS campus. We are identifying the tools, devices, technologies and constructing a network for commercializing the products or services. Innovators and entrepreneurs can get all the benefits with respect to the technology, expertise and facilities from MITS environment.
Objectives
Transfer of knowledge, methodology and practice of technology-based entrepreneurship and support for the students having creative thoughts and ideas and bring them into the limelight.
To encourage students and faculty to take part in innovation, idea generation and product development.
To create awareness about patenting among faculty, students and researchers.
Linking higher educational institutions and industries in the field of science and technology
To create a platform to share knowledge and implementing them in real time research and applications
Continuous motivation to create a permanent network for the exchange of knowledge and practices in technology transfer among the students and researchers.
So the basic idea is to connect or link companies, investors, researchers and innovating minds under MITS innovation Center.
Functions
The Innovation Centre offers space, connectivity and other infrastructure facilities for the students to work
To arrange seed fund to transform an idea into a product
To arrange workshops for students and faculty in the field of Entrepreneurship
Providing training in latest technologies
List of Projects
Intelligent Transport System For Health Care
Storm Hero
Smart Media Player
Mr Rocket
Catch It
Smart Irrigation System
Risque
Toros
Multipurpose Vehicle
Hybrid Vehicle
3D Printing Feed Stock Element Extruder
Weed Remover
Missa
Remote Controlling Robot
Recycling Of Tomato Plant Waste Into Packing Material
Sensor Guided Robotics / Phototropic And Photophobic Robot
Vfd Controlled Multi machining Setup
Web Site For Health Care
Ph Responsive Forward Osmosis Draw Agents For Desalination Of Water
Intelligence Of Breaking System
Smart Home Automation System
Earthquake Detection System
Automatic Exhaust Dust Sensor
IoT Based Environment Monitoring System
IoT Based Foot Neuropathy Detector And Stimulator
Compact Versatile High Voltage Module
Improvement Of Geotechnical Properties Of Red Soil Using Waste Plastic Chairs
Medicine Supporting System
Roof Top Agriculture And Water Harvesting
Solar Operated E-Bio Cycle
Smart Garbage Management
Effortless Ploughing Setup
Traffic Density Management System
Ai-Based Electrical Energy Optimization
Accident Detection & Reporting From Vehicle Using IoT
Innovation Achievements
Team GSSS_TITANS (ID: VISH20192058) of MITS, Madanapalle, AP, participated and won third prize (cash award Rs. 21,000/-) in the National Convention of "Chhatra Viswakarma Awards-2019" held on 24th February 2020 at AICTE, New Delhi under Farm and Flock Category.
Team HUNTER_SQUAD of MITS, Madanapalle, AP, selected for Grand finale of Smart India Hackathon-2020 software edition held during 1-3 August 2020.
MITS is recognized as one of the best performing Institution Innovation Council from the South Central Zone (SCRO) during IIC Calendar year 2018-19.
A total of 158 teams addressed problems for Smart India Hackathon-2019. Out of which 5 teams got selected under Software edition and 10 teams are short listed for Hardware edition. Team Innovative People won First Prize in Grand Finale of Smart India Hackathon-2019, Software Edition held at IIT, Roorkee. Team TRINETRA won First Prize in Grand Finale of Smart India Hackathon-2019, Hardware Edition held at SRM, Chennai.
A team of 4 members is selected for Developers Tutorial and Hackathon-April 2019, organized by India European Union ICT Standard Collaboration Project at Pune.
MITS is recognized as Institution Innovation Council member under the aegis of MHRD Innovation Club.
MITS Innovation Club was inaugurated on 25th September 2018, with 140 students enrollment.
Our students got selected for the final round of AICTE Chhatra Vishwakarma competition held at SRKR Engineering College, Bhimavaram.
35 Projects were displayed during Campus Connect Program held at MITS on 9th August 2018.
10 Project teams from MITS participated in JNANABHERI program held at SV University, Tirupati on 4th August 2018.
A One day Entrepreneurship Development Programme on "Entrepreneurship and the Companies Act 2013" was organised by Entrepreneurship Development Cell in Association with Institution Innovation Council (IIC)
Indian Society for Technical Education (ISTE) on 21st August 2023.
Click here for Report on Event
One-Day Hands-on workshop in the topic "Primer on Containers and Microservices" was organised by Department of Artificial Intelligence MITS-IIC & ISTE on 25th July 2023.
Click here for Report on Event
"ARTS & CRAFTS EXHIBITION - 2023" was organised by Entrepreneurship Development Cell, Department of Management Studies & Institute's Innovation Cell on 17th July 2023.
Click here for Report on Event
The IIC Cell, ED cell, Department of Mechanical Engineering and Department of Management Studies has jointly organized a Virtual Orientation Programme on "Agribusiness Incubation Scheme & The Funding Opportunities For Agri Innovators" on 06th July 2023 in association with "ANGRAU Poshan Incubator", Acharya N.G. Ranga Agricultural University.
Click here for Report on Event
"MITS IDEATHON 1.0" Self Driven Activity was organized by MITS Innovation Cell from June15th, 2023.
Click here for Report on Event
A World MSME Day 2023 was organized by Research and Development Cell, IIC Cell and ED Cell on 27th June 2023.
Click here for Report on Event
A Hand-on workshop on "Image Processing" using MATLAB was organized by Department of Artifical Intelligence on 24th June 2023.
Click here for Report on Event
One Day Guest Lecture Report on "Recent Advancement in Smart Grid and Renewable Energy with Modern Computational Technique" was organised by Department of Electrical and Electronics Engineering on 01st June 2023.
Click here for Report on Event
A One Day Online Workshop on "Application of Automated Machine Learning in Electrical Industry" was conducted by the Department of Electrical and Electronics Engineering in association with IIC & ED Cell on 24th May, 2023.
Click here for Report on Event
A Guest Lecture on "Bigdata Technologies" was organized by Department of Computer Science & Engineering on 20th May 2023.
Click here for Report on Event
A one day online workshop on "Intellectual Property Rights (IPRs) and IP Management for Startup" was organized by MITS - Institution's Innovation Centre Under MoE Recommended IIC Activity on 20th May 2023.
Click here for Report on Event
A National Technology Day 2023 was organized by MITS - Institution's Innovation Centre Under MoE Recommended Celebration Activity on 11th May 2023.
An Industrial Visit to National Atmospheric Research Laboratory (NARL), Tirupati was organized by Department of Computer Science and Engineering on 21st April 2023.
Click here for Report on Event
One Day Workshop on "How to plan for start-up and Legal & Ethical Steps" organized by IIC Cell held on 13.04.2023.
Click here for Report on Event
A one-day National Level Student Technical Symposium RAIDS (Rise of Artificial Intelligence and Data Science) was organized by Department of Artificial Intelligence and Data Science on 19th April 2023.
Click here for Report on Event
One Day National Level Technical Symposium Invicta'2k23 was organised by Department Of Computer Science And Technology on 1st April 2023.
Click here for Report on Event
An Online Guest Lecture on "Cutting Edge Technology on Cloud Computing" was organized by Department of Computer Science & Engineering 18th March 2023.
Click here for Report on Event
One Day Online Workshop Report on "Encouraging Students for Research" was organised by Department of Electrical and Electronics Engineering 13th March 2023.
Click here for Report on Event
One Day Workshop on Achieving Problem-Solution Fit & Product-Market Fit – 23.02.2023.
Click here for Report on Event
One Day Workshop on Design Thinking, Critical Thinking and Innovation Design – 21.02.2023.
Click here for Report on Event
A Guest Lecture on "Machine Learning and its Applications" was organised by Department Of Computer Science And Technology on 16 February 2023.
Click here for Report on Event
A Webinar on "Entrepreneurial Uses of AI" was organized by Department of Artificial Intelligence & Data Science in association with Entrepreneurship Development Cell on 25th January 2023.
Click here for Report on Event
An Awareness programme on "How to Groom Entrepreneurs" was organised by Entrepreneurship Development Cell & Department of Computer Science & Engineering on 24th January 2023.
Click here for Report on Event
A Webinar on "Challenges and Opportunities in IT Sector" was organized by was organised by Department Of Computer Science And Technology on 09th January 2023.
Click here for Report on Event
A Guest Lecture on "Linux and Databases" was organised by Department of Computer Science and Technology on 07th January 2023.
Click here for Report on Event
Emerging Technologies in IoT and Industry 4.0 – 12.01.2023.
Click here for Report on Event
An Industry Guest-Lecture Report on "Entrepreneurship Opportunities in Solar Power" was organised by Department of Electrical & Electronics Engineering on 29th December 2022.
Click here for Report on Event
Guest Lecture on "A talk on Entrepreneurship Skill, Attitude and Behavior Development" – 27.12.2022.
Click here for Report on Event
One-Day workshop on "An Introduction to Research Document Preparation using LaTex" was organised by Department of Artificial Intelligence & Data Science in association MITS-IIC on 17th December 2022.
Click here for Report on Event
Thermal Power Plant Engineering – 14.12.2022.
Click here for Report on Event
National Energy Conservation Day – 14.12.2022.
Click here for Report on Event
A Guest Lecture on "Entrepreneurship Opportunities" in 'VLSI' was organised by Department of Electrical and Electronics Engineering on 03rd December 2022.
Click here for Report on Event
MITS-INTERNAL-HACKATHON-2022 was organized by MITS Innovation Cell on 30th November 2022.
Click here for Report on Event
Guest Lecture on "My Story – Motivational Session by a Start-up Founder" – 26.11.2022.
Click here for Report on Event
One day skilled workshop on "Fundamentals of PCB design" was organised by Department of Electrical & Electronics Engineering on 19th November 2022.
Click here for Report on Event
A Report on Workshop on "Real Time Cyber Security solutions" was organised by Department Of Computer Science And Technology on 19 November 2022.
Click here for Report on Event
National Education Day was celebrated on 11th November 2022.
Click here for Report on Event
Webinar on Entrepreneurship, Innovation, And Career Opportunity was conducted on 21st October 2022.
Click here for Report on Event
Workshop on Design Thinking & Innovation was conducted on 15th October 2022.
Click here for Report on Event
National Innovation Day was celebrated on 15th October 2022.
Click here for Report on Event
One Week Online Faculty Development Programme on Recent Tools & Techniques for Data Science and Artificial Intelligence in association with Institution Innovation Council from 19th to 26th September 2022.
Click here for Report on Event
An Industry Guest-Lecture on "Solar Projects, Future Technology, Growth & Opportunities" was organised by Department of Electrical & Electronics Engineering on 17th September 2022.
Click here for Report on Event
A Five-days Faculty Development Program (Hybrid Mode) on "MATLAB Toolbox for IOT Application Development" from 26th to 30th September 2022.
Click here for Report on Event
IMPACT LECTURE SERIES 2022-23
Click here for Report on Event
Impact Lecture Series-Session-1:
A. Lecture-1
Guest Lecture on "Startup in Infrastructure Consulting: Opportunities, Challenges and Learnings" organized by MITS-Innovation Cell in association with Civil Department on 1-June-2022.
Impact Lecture Series-Session-1:
B.Lecture-2:
Guest Lecture on "Startup in Infrastructure Consulting: Opportunities, Challenges and Learnings", organized by MITS-Innovation Cell in association with Civil Department on 6-June-2022.
Impact Lecture Series-Session-2:
C.Lecture-1:
Guest Lecture on "Medical Image Processing: Research and Challenge", Organized by MITS-Innovation Cell in association with ECE department, on 30th June 2022
Impact Lecture Series-Session-2:
D.Lecture-2:
A Guest Lecture on "Opening of Start-up: Opportunities, Challenges and Learnings", Organized by MITS-Innovation Cell in association with ECE department, on 30th June 2022.
MITS-INTERNAL HACKATHON-2022 was organised on 15th March 2022.
Click here for Report on Event
One-day workshop "Promoting Innovative Ventures: Role of Technology Business Incubator (TBI)", was organized by Department of Electrical and Electronics Engineering in Association with Institution Innovation Council, 09th July 2021.
Click here for Report on Event
A Webinar on "A Brief Overview of Thermal Power Plant" was organized by Department of Electrical and Electronics Engineering in Association with Institution Innovation Council on 08th June 2021.
Click here for Report on Event
World Youth Skills Day Celebrations was organized by MITS Innovation Cell, 15 July 2021.
Click here for Report on Event
MITS Innovation Cell organised "Innovation Day - Awareness on Nobel Prize" on 15th October 2019.
Click here for Report on Event
"MITS Innovation Club Annual Meet-2019 was organized my MITS I-center on 25th September 2019 in MITS-Auditorium."
Click here for Report on Event
"First annual Innovation Festival of MIC", organized by MHRD'S Innovation Cell at AICTE Head Quarters, New Delhi on 11th September 2019.
Click here for Report on Event
A Leadership Talk, Episode 05 of India First Leadership Talk with Dr.Ramesh Pokhriyal Nishank, HRD Minister Honorable HRD Minister answered the students questions on "Innovation for Resurgent India" on 22-Aug-19.
A one day Workshop on "Entrepreneurship Awareness Camp" was organized by Organized my MITS Innovation Society and ED Cell on 2nd May, 2019.
Click here for Report on Event
A One day Workshop on "Design Thinking" was organized by MITS Innovation Society on 23rd April 2019.
Click here for Report on Event
Off-line workshop on IPR for Students and Faculty Members was conducted by Local Expert Dr.G.Hemath Kumar, Research Professor at MITS on 19th January 2019.
Click here for Report on Event
Online workshop on IPR for Students and Faculty Members was conducted through Facebook live session by Ms.Shwetasree Manjumder, arranged at MITS Seminar hall on 10th January 2019.
Click here for Report on Event
MITS Innovation Club was Inaugurated on 25th September 2018.
Click here for Report on Event
35 Projects were displayed during Campus Connect Program held at MITS on 9th August 2018.
10 Project teams from MITS participated in JNANABHERI program held at SV University, Tirupathi on 4th August 2018.
Click here for Report on Event
A 2 Day workshop with Hands-on Training on Android Applications organized by Mits Innovation Society & ED Cell on 26th & 27th April, 2018.
Click here for Report on Event
"3-Days Workshop on (iBootup) IoT, organized by MITS Innovation & Incubation Center in Association with AP Innovation Society, during 22nd to 24th March 2018.
Click here for Report on Event
IIC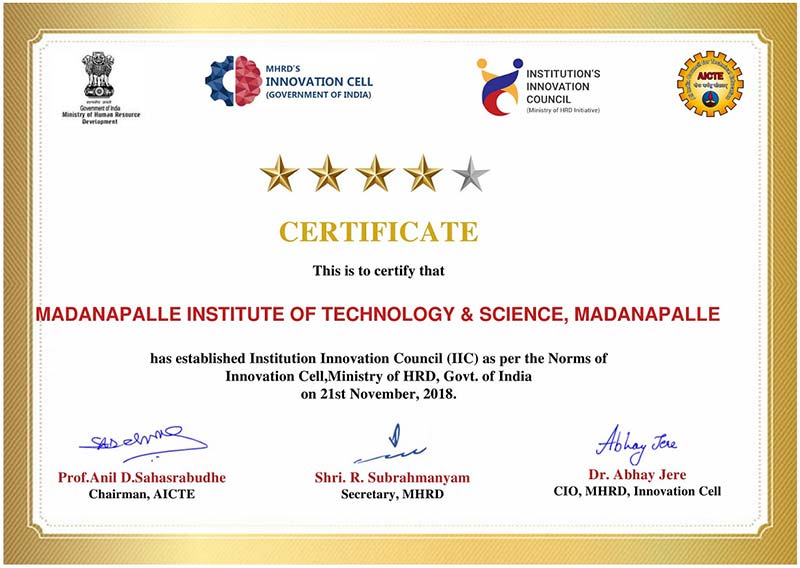 IIC Faculty Coordinators
| Sl.No | Name of the Faculty | Department | Designation |
| --- | --- | --- | --- |
| 1 | Ms. Lipsa Mishra | CIVIL | Assistant Professor |
| 2 | Ms. Revathy Gopinath | EEE | Assistant Professor |
| 3 | Dr. Nishant Saran | ECE | Assistant Professor |
| 4 | Mr. Amit Arya | CST | Assistant Professor |
| 5 | Mr. Anandaraj B | CSE | Assistant Professor |
| 6 | Dr. Saravanamuthu | MCA | Assistant Professor |
| 7 | Dr. Prem Knowles | MBA | Assistant Professor |
| 8 | Mr. P. Sahad | AI&DS | Assistant Professor |
| 9 | Mr. Gowtham A | Cyber Security | Assistant Professor |
IIC Student Coordinators
| Sl.No | Student Name |
| --- | --- |
| 1 | Dammu Srinivas |
| 2 | P.Venkata Naveen Kumar |
| 3 | Anudeep Patangi |
| 4 | G.Chandra Sekhar Reddy |
| 5 | Sankalp Sidhanth Misra |
| 6 | L.Naga Sangeetha Reddy |
| 7 | Shaik Mohammad Fouzan |
| 8 | S.Shyam Sundar |
| 9 | Pratheek |
| 10 | Malli Reddy Sasikanth Reddy |
| 11 | P.Varsha Reddy |
| 12 | Marthala Praveen Kumar Reddy |
| 13 | P.Harshitha |
| 14 | G.Bhavani |
| 15 | T.Poojitha |
IIC Events
| Sl.No | Event Type | Title | Description | From | To |
| --- | --- | --- | --- | --- | --- |
| 1 | Competition | Proof of Concept (POC) Submission | Inviting nominations of maximum 4 best Ideas/PoCs from each IICs in two major categories of themes (Category A and Category B) | 15-05-2019 | 23-06-2019 |
| 2 | Offline Workshop | Workshop on Cognitive Skills, Design Thinking and Critical Thinking using local resource persons | IICs have to organize this workshop and upload the report on the IIC portal as per parameters attached. | 04-09-2019 | 15-05-2019 |
| 3 | Leadership Talk | Episode 04 of India First Leadership Talk with with Prof. Anil D. Sahasrabudhe, Chairman, AICTE | MHRD Innovation Cell (MIC) is organizing "India First Leadership Talk Series" with Prof. Anil D. Sahasrabudhe, Chairman, All India Council for Technical Education. | 04-10-2019 | 30-05-2019 |
| 4 | Design Competition | Design Competition for Proof of Concept Development | This is the next step after the "Idea Competition". Selected Ideas at the end of the Idea Competition should be invited to give a presentation to the Evaluation Committee based on their idea submitted. IICs should organize Design Competition / Workshop for awareness among students who submitted the idea to designing and development of Proof of Concept of Idea submitted. | 04-01-2019 | 15-06-2019 |
| 5 | Competition | Idea Competition | Invite innovative Ideas from students of your Institution from various departments to solve the problems related to at least two/all of following themes- 1. Agriculture & Rural development 2. Health Care 3. Energy 4. Environment 5. Others | 15-02-2019 | 30-05-2019 |
| 6 | Leadership Talk | Episode 03 of India First Leadership Talk with Dr. Ajit Doval, NSA, Govt. of india | MHRD Innovation Cell (MIC) | 21-02-2019 | 30-05-2019 |
| 7 | Leadership Talk | Episode 02 of India First Leadership Talk with Dr. Anand Deshpande, CMD, Persistent Systems Ltd. | Episode 02 of "India First Leadership Talk Series" with Dr. Anand Deshpande, Founder, Chairman & Managing Director Persistent Systems Ltd. on theme "Planning for Career, Future industry trends and Startup". This will be an hour long program | 24-01-2019 | 24-01-2019 |
| 8 | Workshop | Off line workshop on IPR for Students and Faculty Members | offline session by Local expert invited by Institute for Workshop on "IPR for Students and Faculty Members" Date: 10th January, 2019 to 24th January 2019, preferably on 10th January but date can be extended by institute for maximum 15 days due to unavoidable circumstances. | 01-11-2019 | 24-01-2019 |
| 9 | Workshop | Workshop on IPR for Students and Faculty Members | Facebook Live session by MHRD Innovation Cell for Workshop on "IPR for Students and Faculty Members" Date: 10th January, 2019 Time: 1:30 PM to 3:30 PM | 01-10-2019 | 01-10-2019 |
| 10 | Leadership Talk | India First Leadership Talk by Shri. Anand Mahindra, Chairman, Mahindra Group | MHRD Innovation Cell (MIC) is organising "India First Leadership Talk Series" as per IIC calendar on 8th January 2019. Shri. Anand Mahindra, Chairman, Mahindra Group will be the speaker for this session. We are inviting questions from students all across the country to be asked from Shri. Anand Mahindra. One question per IIC regarding Innovation, leadership and achievements will be entertained. Submit your questions at www.mic.gov.in/questions.html | 01-08-2019 | 01-08-2019 |
| 11 | Launch | Launch of Institution Innovation Council | Launch of IICs by Hon'ble Minister of HRD, Shri Prakash Javadekar | 21-11-2018 | 21-11-2018 |
MITS NMRL
Contact
Mr. S. Gopala Krishnan
Coordinator
Madanapalle Institute of Technology & Science
Post Box No: 14, Kadiri Road,
Angallu Madanapalle-517325,
Andhra Pradesh, India
Phone:
+91-8571-280255, 280706
Email:
Contact
Mr. S. Gopala Krishnan
Coordinator
Address :

Madanapalle Institute of Technology & Science
Post Box No: 14, Kadiri Road,
Angallu Madanapalle-517325,
Andhra Pradesh, India

Phone : +91-8571-280255, 280706

E Mail : [email protected]